Review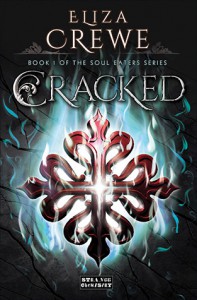 Book Title: Cracked
Author: Eliza Crewe
Series: Cracked #1
Genre: Paranormal, Young Adult, Urban Fantasy
Publisher: Strange Chemistry
Source: Own on Kindle
☠☠☠☠☠☠Why I picked that quote☠☠☠☠☠☠
It captures the essence of what this book is for me...an outrageously snarky and deceptively clever heroine with a good helping of pop culture references in her repertoire and some oddly relatable issues that befall her along the way.
☠☠☠☠☠☠☠☠This book rocks!☠☠☠☠☠☠☠☠
Overall Rating: 4.7/5 Stars
✧Breakdown of Rating✧
Plot

: 4.7/5

Characters

: 5+ for Meda, one of the coolest chic's I have the privilege of being inside her head. The rest of them maybe a collective 4 out of 5.

Theme

: 5/5 It has that the whole good vs. evil thing...I mean she does eat only the "bad" guys.

Flow

: 4.5/5

Originality

: 5/5 Meda is the OG soul eater.

Book Cover

: 5/5 Love it.

The Feels

: 4.5/5 Not much in the romance department for this book, which was an oddly refreshing change.

Sex Factor

: none

Ending

: 4.8/5.

Cliffhanger

: no
Will I continue the series: Yes, I already have book #2 Crushed
Synopsis:
Well, technically, she eats their soul. But she totally promises to only go for people who deserve it. She's special. It's not her fault she enjoys it. She can't help being a bad guy. Besides, what else can she do? Her mother was killed and it's not like there are any other "soul-eaters" around to show her how to be different. That is, until the three men in suits show up.

They can do what she can do. They're like her. Meda might finally have a chance to figure out what she is. The problem? They kind of want to kill her. Before they get the chance Meda is rescued by crusaders, members of an elite group dedicated to wiping out Meda's kind. This is her chance! Play along with the "good guys" and she'll finally figure out what, exactly, her 'kind' is.

Be careful what you wish for. Playing capture the flag with her mortal enemies, babysitting a teenage boy with a hero complex, and trying to keep one step ahead of a too-clever girl are bad enough. But the Hunger is gaining on her.

The more she learns, the worse it gets. And when Meda uncovers a shocking secret about her mother, her past, and her destiny… she may finally give into it.

While they were some elements to this story that would have made it super boring I was kept interested by the interesting way the author
My Thoughts:
While there were elements of this story that could have been really boring, It held my interest throughout because of the author's engaging style of storytelling. Her use of adjectives was astounding, even to me. I am looking forward to seeing where this story is going. Hopefully, Meda stays true to herself.