Review
Book Title: Exit, Pursued by a Bear
Author: EK Johnston
Narration: Jorjeanna Marie
Series: Stand Alone
Genre: Contemporary, Realistic Fiction
Source: Audiobook (Library)
Find my full review including video at Leah's Bookish Obsession
♪♫MY PICK FOR BOOK THEME SONG♫♪
♫Cheerleader by OMI --for Pauly and Hermione…here's to friends who always got your back. All the lyrics don't fit, of course…but the chorus is right on. ♫
⇝Ratings Breakdown⇜
Plot: 4.8/5
Characters: 4.5/5
The Feels: 4.5/5
Addictiveness: 4.8/5
Theme: 5/5
Flow: 5/5
Backdrop (World Building): 5/5
Originality: 4/5
Book Cover: 5/5
Narration: 5/5
Ending: 5/5 Cliffhanger: No
Will I read more from this Author? I have read two of her books now, so it's probably safe to say that I would.
⇝My Thoughts⇜
I found Hermione's attitude to be enlightening. With an excellent cast of secondary characters and of course, Pauly, her amazing best friend. I never felt forced to listen to this, I wanted to. Narration is very well done by Jorjeanna Marie, I think she nailed Hermione.
Being a Cheer Mom, I was drawn to the Cheerleader aspect too. I personally don't know of any high school co-ed teams, but my daughter assures me that they do exist. Besides, the setting is Canada; maybe they only have co-ed teams??? Can't say I know much about Canada, other than it's mostly right above me, geographically…oh…and it's freakin' cold.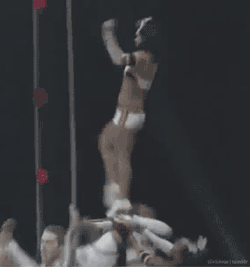 ⇝Sex Factor⇜ There is a rape, but it's not graphic.