Review Video
♪♫My Pick For Book Theme Song♫♪

♫SAVED (Charlie's Song) from LOST w Lyrics The Bangkok Five --Yeah, that Charlie from the TV show Lost…because I loved that show and this book brings back my memories of loving that show. Honestly, the mystery, the existential feelings it evokes, remind me so much of that show.♫

Although, I was more obsessed with Jack...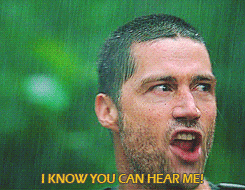 Book Title: Nil On Fire
Author: Lynne Matson
Series: Nil #3
Genre: YA, Mystery Thriller
Source: Kindle eBook (Library)
OVERALL RATING: 4/5 STARS

GRADE=B+
⇝My Thoughts⇜
This book took almost two weeks for me to finish, which wasn't entirely the books fault, it was mostly RL. That being said, while I was reading this, I was constantly distracted, and it was mostly thoughts of life and existence and the ending of it. Freaky thoughts that kind of spooked me, and it's essentially what made reading this such an arduous undertaking for me.
Overall, this is a fitting end to this series, despite my not liking the main character, Skye, as much as I did in the second book…she's was just...annoying, smackably so. It's told from three POV's, which includes Skye, Rives and Nil…yeah the island has a voice. At first I was annoyed by that, but eventually it makes sense why the Author did it this way. There's a lot of new characters introduced in this book, and it's kind of hard to keep them all straight at first. Although, I did especially like Molly and Davey...oh yeah, and Hafthor too.
⇝Ratings Breakdown⇜
Plot: 4.2/5
Main Characters: 4/5
Secondary Characters: 4.3/5
The Feels: 4.5/5
Addictiveness: 4/5
Theme or Tone: 4/5
Flow (Writing Style): 3.5/5
Backdrop (World Building): 4.2/5
Originality: 4/5
Book Cover: 5/5
Ending: 5/5 Cliffhanger: Nope!
Will I continue this series? It turns out there is a another book, which is actually Skye's Uncle Scott's Journal. It's also free on Amazon!