Review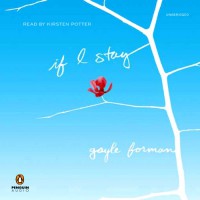 --Gayle Forman, If I Stay
I really loved this book...It deserves more than five stars.
I listened to it on my phone while cleaning house and there I was crying alligator tears while sweeping the floor. I was emotionally wrought after reading this, I think that losing my mother, made this book cathartic for me, she had a stroke and was in a coma too, but my Mom didn't stay. I think maybe it was because she didn't want to live the rest of her life in a hospital; like her Father was doing after he had his stroke. I love my Mom and I wanted her here with me, more than anything...but I accept her decision to go.
I would recommend this book to anyone who is not afraid of good cry.
The movie "If I Stay" comes out August 22, and I think Chloe Grace Moretz will make a wonderful Mia. I am looking forward to watching it.
Trailer for "If I Stay" --even this made me cry...I might have to wait until it comes out on DVD because I hate crying in the theater.